News
Karen visits Tullaghan on her 20,000 mile trek!
Posted: 26/04/2019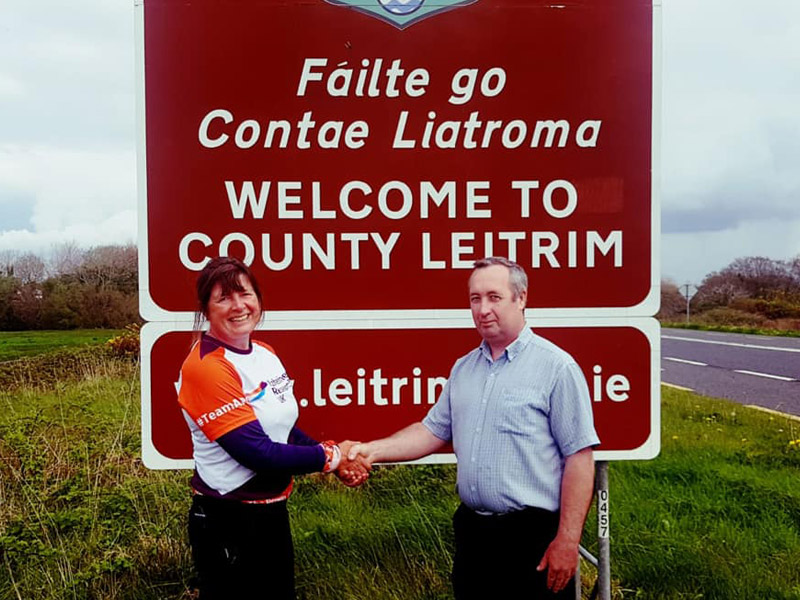 Karen Penny who is doing a 20,000 mile coastal walk of Ireland and Britain for Alzheimer's research reached the Leitrim coastline on 26th April.
Setting off from Mullaghmore, she reached Tullaghan in the afternoon, where she was given a very warm welcome from JohnJoe, Susan, and Sheila from the Development committee at Tullaghan, alongside local resident Bernice Gill.
Karen was taken on guided tour from The Duff river along the coast road visiting St Patrick's wells and shoreline. At Tullaghan Chapel she stopped to view the old stone font now used for baptism of babies at alter and beauty of alter area. She had well-earned cup of tea and refreshments at the community centre. Karen then continued to walk to Tullaghan Cross and then proceeded her walk to the Drowes river to view what is traditionally where the first salmon in Ireland is caught each year and saw many surfers riding the Leitrim Waves. She was kindly hosted by Rodger White and family that night in Tullaghan.
Well done Karen. Amazing, what a remarkable effort by a truly remarkable woman.